After eight months of training Clem's first operational posting was to Canberra, ACT with No.4 Squadron (CAC Wirraway aircraft).
No.4 (Army co-operation) Squadron                                        10 months

No.4 Squadron had been established as a unit of the Australian Flying Corps (AFC) at RAAF Point Cook on 16 October 1916. During World War I No. 4 Squadron claimed more "kills" than any other AFC unit (199 enemy aircraft destroyed) and 11 of its pilots became aces.
No.4 Squadron was re-formed again in 1937, and yet again at Richmond on 17 June 1940, this time as an army co-operation unit. Originally equipped with Hawker Demons and De Havilland Moths, it converted to CAC Wirraways and relocated to Canberra, ACT  in September 1940 (during the height of the Battle of Britain).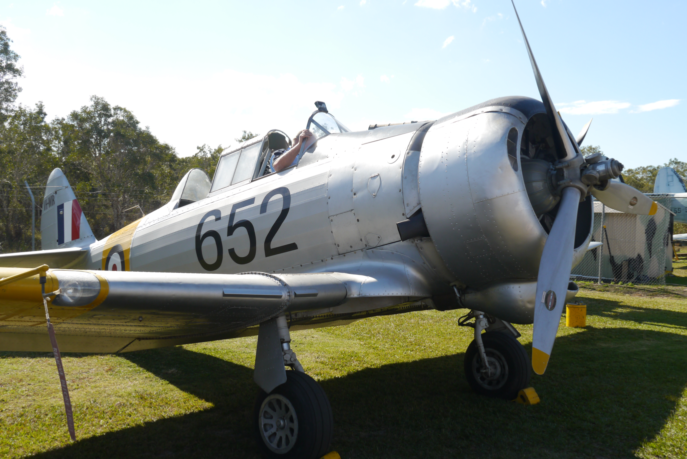 Click on the media player below to listen to the sound of this Wirraway running on the ground. Clem would have heard this sound a lot in 1941.
Clem served in No.4 Squadron in Canberra between 11 February 1941 and 8 December 1941 (the day after the Japanese attack on Pearl Harbour).
On 20 May 1942, No. 4 Squadron deployed to Camden Airfield. There it flew anti-submarine patrols as well as army co-operation training sorties until redeploying to Queensland and then in November 1942 to New Guinea. Despite the Wirraway being unsuitable as a fighter, on 26 December 1942 No. 4 Squadron Pilot Officer John Archer succeeded in shooting down a Mitsubishi Zero fighter near Gona in PNG. His Wirraway (Serial number A20-103) is preserved by the Australian War memorial in Canberra but is not presently on display. This was the only kill achieved by a Wirraway during the war.
No.2 Aircraft Depot (2 AD) Richmond, NSW                        20 months
Clem was redeployed to No.2 Aircraft Depot (2 AD) Richmond, NSW on 9 December 1941 and remained there until late July 1943.
Following the outbreak of hostilities in September 1939 the RAAF developed seven aircraft depots to handle its growing number of training and combat aircraft. WW2 activities at No.2 Aircraft Depot were outlined a book by the RAAF Historical Section published in 1996.
"The advent of the Tiger Moth (first acceptance flight at Mascot, 16 May 1939) and the construction of the Wirraway at Commonwealth Aircraft Corporation, caused an increase in workloads at the Depot.
With the outbreak of World War 2 No.2 Aircraft Depot had grown from a nucleus of one Officer and 14 airmen to a strength of 11 officers and 297 airmen. During the early period of the War, assembly of Demons, Ansons, and Seagulls continued. Tiger Moths received from de Havillands were test flown before being issued to training establishments.
World War II introduced a continuous workload for all sections – armament, erection (re-assembly and testing of aircraft after shipment to Australia), radar, aircraft repair, motor transport repair, machine shop, metal work, engine repair, W/T (wireless telegraphy set) repair, instrument, parachute and electrical repair. Difficult but valuable work was carried out by airmen in salvaging crashed aircraft, some of which were to fly again, while others were stripped for useful components."
Taking one month as an example:
"During April 1944 the unit erected, modified, fitted out for operations, or repaired seven Ansons, 16 Austers, two Beaufighters, six Beauforts, three Kittyhawks, 10 Spitfires, four Vengeance, four Venturas, one Mosquito, two Hudsons and a Douglas aircraft. Engines despatched after overhaul or repair included 30 Gipsy Major, two Single Row Cyclone and one Double Row Wasp."
The RAAF's original Douglas A20 Boston aircraft were assembled at 2 AD. Clem would later service Boston aircraft with No. 22 (Attack) Squadron in the small islands north of what is now Papua New Guinea.